---
Sew, what's in each shipment?
Perfect for beginners, ages 8-98
Learning to sew can seem overwhelming: sewing machine intimidation, not knowing what to purchase at the fabric store, trying to decipher sewing jargon, and accidentally cutting all the pattern pieces out wrong...not to mention the time commitment.
What if you could skip all that hassle and just get straight to the fun stuff--actually sewing something?
Now you can. This monthly sewing club is designed to take you on a stress-free sewing journey, and this is how:
Learn to use your sewing machine with access to our beginner's video library, as well as personalized email help.
No need to scour the store shelves--everything needed for each project is included. Yes, even the thread, pins, and sewing machine needle!
Goodbye, sewing jargon. You will receive tutorial videos and written instructions that are SEW easy to follow.
No more cutting. (You read that right!) You will receive fabrics pre-cut in the correct pieces for each project.
Your monthly shipment will showcase a new pre-cut project kit and 2 project tutorial videos: one for the project kit, and one "upcycle" project that will help you apply the new skills you have learned to items found readily in the home.
The $50+ retail value includes:
Pre-cut project kit, written instructions, and tutorial video.
An on-demand "upcycle" sewing class. Learn to apply your new skills to projects around the house!
Learning aid. Say goodbye to intimidation as you learn about topics such as thread types, tension 101, and how to use a downloadable pattern.
Indie pattern. Get access to one of our exclusive downloadable patterns so you can recreate the pre-cut project as many times as you wish!
Fabric store coupons from our retail partners are also included.
Sewing tools or gifts such as seam gauges, magnetic pin wands, sewing machine earrings, and sewing journals.
Creative inspiration. Each month, special motivational quotes/items are placed into your shipment to help inspire your creativity!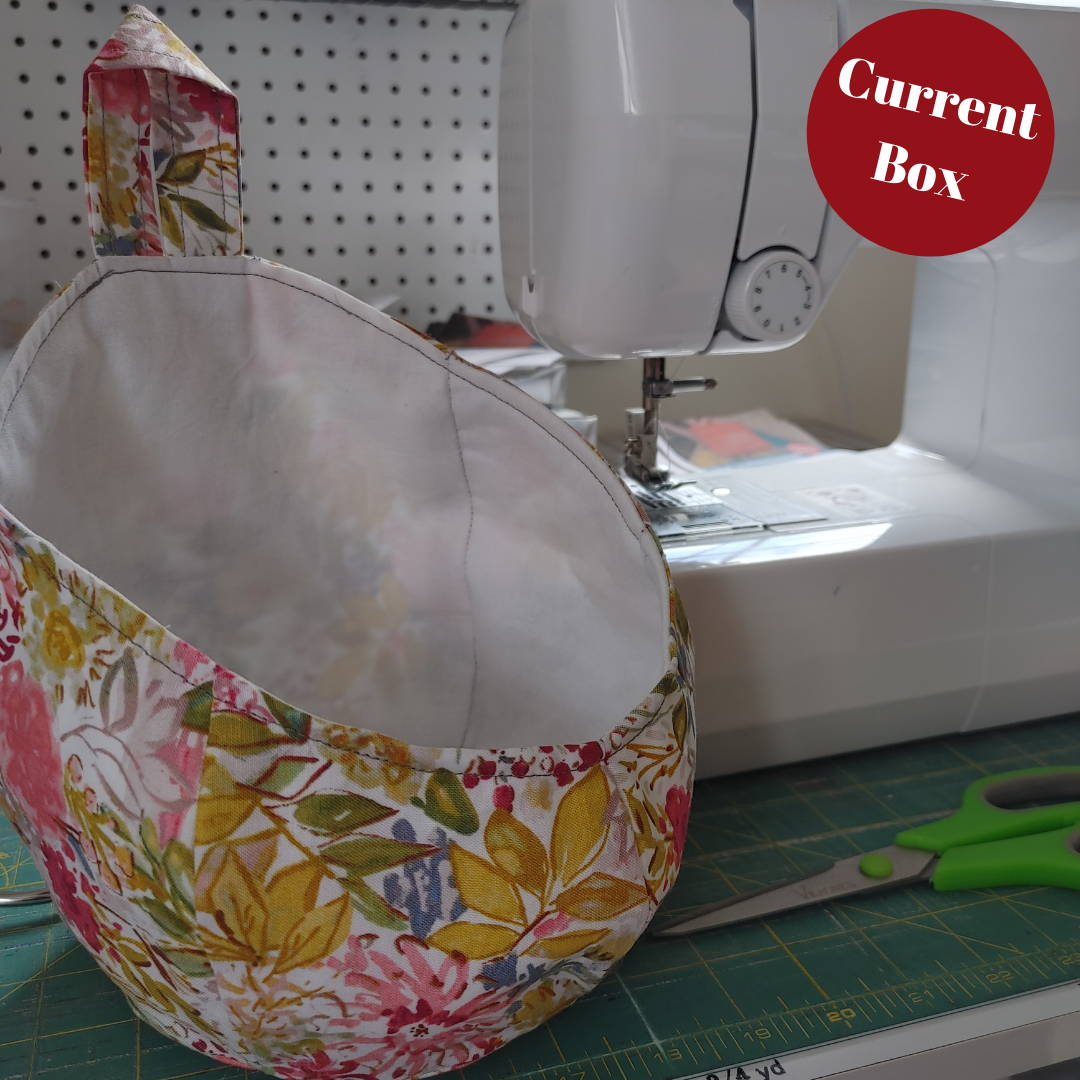 Join the club in the next...
The May shipment will showcase a pre-cut project for 2 bubble organizer baskets (pictured here). Also learn to turn an old pair of jeans into a nifty grocery-bag dispenser.
Also:
Digital bubble basket pattern.
Monthly sewing tips and tricks.
Sturdy (and useful!) sewing-themed shopping tote.
Order before the end of April to receive this box. This box ships on May 4th.